Project Profiles
PALM Associates is involved with a number of communications and networking technologies.
Our development activities have been in support of new startups and Fortune 10 companies.
Over the last 10 years we have been able to integrate with large corporate Quality Assurance and product development organizations, to effectively communicate our technology to the engineering staffs and to efficiently manage a high-pressure development environment.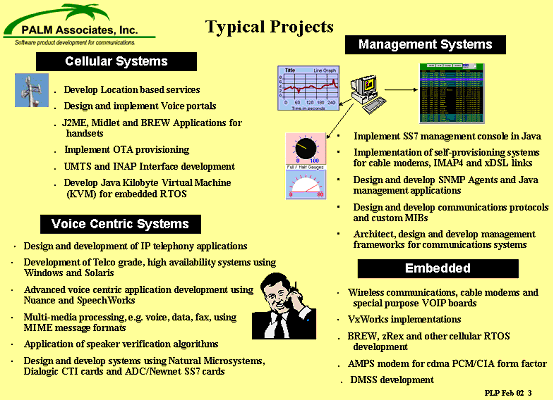 General Project Expertise
PALM has developed conventions for configuration management, product test and evaluation, and development that make us an effective partner to new startups and Fortune 10 companies alike.
While maintaining a focus on communications, networking, voice and security, we have applied our skills in a number of market sectors; see Figure 2 Market Sectors where PALM has experience.
This wide application of our skills has given us a perspective that is seldom found in a small company in this industry. As a result, PALM understands the impact of design decisions on the marketability, usability and effectiveness of our client's product.